Worth Living Ambassador Shaelynn Baxter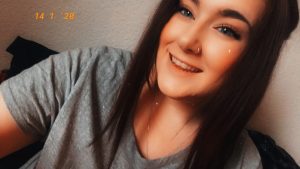 Hello, my name is Shaelynn Baxter. I graduated from the Social Services Program at the Nova Scotia Community College in Sydney, Nova Scotia, and I am now enrolled at Mount Saint Vincent University in the Bachelor of Arts Combined Major with Family Studies and Psychology. I'm working towards obtaining a Social Work degree. I was diagnosed with severe anxiety and depression and that's how I began to dedicate my time to helping others in need. Mental Health has had a huge impact on my life and I'm happy to be able to finally start sharing my own experiences.
The Grass Isn't Always Greener on the Other Side
I graduated from the Social Services Program at Nova Scotia Community College in June of 2019. I applied and was accepted into the Bachelor of Arts with a Combined Major in Family Studies and Psychology program at Mount Saint Vincent University for September 2019 to continue my education to become a Social Worker. 
I always dreamed of leaving my little town in Cape Breton, Nova Scotia, and always told everyone how I "couldn't wait to leave this boring island!". Turns out, I was wrong. 
After leaving Cape Breton to move to Halifax so I could attend MSVU, I came to the realization of how beautiful Cape Breton is and how badly I wanted to go home so I could be with my friends and family again. I moved to Halifax alone and not knowing many people so my depression and anxiety started to creep back into my life even though I was doing so well months beforehand. I started isolating myself, yet again, and barely spoke to friends or family.
 If I did happen to call my mom, it was to cry about how much I hated it here and how all I wanted to do was quit university and drive the four hours back home. But I stuck it out and finished my first semester at University with decent marks and now I'm almost finished my second semester!
 It slowly got better, I started to put myself out there to make friends in my classes. My boyfriend moved from the UK to Canada and now we're living together, and I go out more now to see friends who lived  here before I even moved to Halifax. 
I ended up changing my major for second semester because I realized what I currently signed up for was not what I wanted to be doing. So instead, I changed my major to Family Studies and Psychology and now I'm more interested in what I'm doing in my current classes and that alone has had a huge impact on my mental health. 
I changed my mindset, I realized that this is what I need to do for a while so I can keep going and be able to get a Social Work degree in the future. Leaving my hometown, missing friends and family, and struggling with mental health issues are hard, but I know that it's only for a little while. 
People think you automatically have to attend university as soon as you graduate high school or you'll "fall behind" other people your age. What I'm here to tell you is that isn't always the case. It took me five whole years to go back to college after I graduated high school in 2013.
I had my own mental health issues to deal with and I didn't even know what I wanted to do regarding a career choice. You may feel pressured that you absolutely have to choose what you want to do at the age of 18, but I'm 24 years old and still have a few years to go before I get to where I want to be. If you're unsure as to what you want to do, there's no harm in taking a year off of school to figure it out. If I went straight off to college when I was 18, I wouldn't be where I am at 24. Even though I was dealing with my anxiety and depression during those years, I wouldn't change it for the world because I found something that I love doing and was able to realize that I am meant to help others who are struggling with their own mental health issues. 
Moral of the story is that the grass isn't always greener on the other side, you may think leaving your small little town will be the greatest thing you could ever do but you start to miss the little annoyances, the people, your friends and family. 
You may think you have to choose a career path right away, but you don't. Take your time, figure out what you truly want to do in a further career path and go from there. However, the old saying goes "the grass is green where you water it". 
I could have stayed negative and upset that I was living away from my hometown. I could have stayed angry and I could have let my depression and anxiety win, drop out of university, and move back home, but I didn't. I'm making the best of the situation I'm currently in and I'm going to further my education until I get where I want to be. 
My mental health issues could have completely ruined the progress I've been working so hard on, but I didn't, and I won't allow them too. I'll get to where I need to be, even if it takes me a little while longer.