By Faith Mackey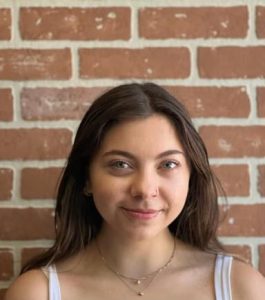 Hello all!  My name is Faith Mackey and I am the new Director of the Worth Living Blog! I am so honoured to have this position and be able to share the story of my mental health journey from letting my thoughts rule me to learning to be free.
Trigger Warning: topics such as depression, self-harm, and eating disorders are lightly mentioned. 
"Small, small, small. I want to be good and small, and once I am small I will feel good." These are the words that I let run in my mind for most of my adolescent life. 
From a young age, I had always felt quite out of place. Never fully satisfied or comfortable with who I was. Middle school was when I really began to question the feelings I was having inside. I looked around at the girls in my classes and I wished I could be more like them as if that would be the answer to why I felt so low. "If only I was prettier, had the right clothes, said the right things and was skinner. This reinforced my negative thinking that "once I am small, I will feel good." 
I have over the years struggled with depression, anxiety, and an eating disorder. Depression to me was a dark hooded friend that was always there, always wanted to stay in, and always found a way to stop me from getting any help. For most of high school, depression was my best and sometimes only friend. I told myself I was "too much" too loud, too big, and too stupid, and when I was having a hard time with my mental health, the one thing I felt I could control was my weight. This has been a continued struggle that comes and goes, but I am proud to say I am now on the winning end.
High school for me was a blur filled with many lows, many days of not wanting to get out of bed, feeling anxious as to whether people liked me, and struggling with my self-image. I started freshman year as a bubbly girl on the cheerleading team who had friends, went to parties, and overall seemed well adjusted. But then I would come home and take off my mask. I didn't like the girl in front of the mirror, she was fake – a fraud. How could anyone truthfully like or care for me when all I could do to keep it together was to play pretend?  I compared myself to the girls on my cheer team who seemed so happy, so fearless. I told myself I would do anything to be more like them and again I found myself morphing into yet another person I was not. 
I decided not to return to cheerleading after my freshman year. Like many other entertainment sports, there is an underlying emphasis that one must be thin to do well. I found myself calorie counting and worrying about how much I had eaten in a day and how long I would need to work out after cheer practice to burn whatever I had consumed off. To me controlling what I ate sometimes felt like the only control I had over my life.
For my last three years of high school, I found myself surrounded by a group of people who felt the same way as me, struggling. It was comforting for a time to know that others felt the way I did, but I made the mistake of not seeing that as a sign to tell an adult about what I was going through. So, I continued on a path where, although I had found a group of friends, I felt completely alone. For a few years, I let my depression get the best of me. I stayed in, didn't take care of myself, and at a very dark point in my life, I turned to self-harm. I wanted so much to get help but I felt ashamed that I had let myself get to such a low point. 
After hiding it for so long, I was not sure how I would be treated by the people in my life. To me, my depression was my fault and my fault alone and the last thing I wanted to do was to let someone in, especially my parents. To let them see how I had been treating myself seemed scarier than dying at the time. I was ashamed and angry at myself that I just could not "get it together" no matter how hard I tried. Through that darkness was a small bit of light, a few hours a day that I looked forward to, going to my part-time job at a coffee shop where I was a barista. It was some of the older people I worked with who convinced me to open up to my parents about what I was going through and get help, which I eventually did.   
After seeing a therapist it was suggested that I attend a DBT group. I can confidently say that dialectic behavioural therapy changed everything for me. While it was uncomfortable to grow and change, I embraced that struggle. DBT is a form of therapy in which one learns new skills and outlets to redirect harmful thinking and acts. There are four main pillars of DBT which are mindfulness, distress tolerance, interpersonal effectiveness, and emotional regulation. In DBT, I learned how to soothe my triggers and redirect my anxious thoughts. Many skills such as TIPP (Temperature –Intense Exercise –Paced breathing and – Paired muscle relaxation.) which is a set of four practices that one can do when it becomes difficult to regulate their emotions, and is a skill that I still use to this day. 
Once I had graduated high school, I thought that everything would get better, but the road to being our best selves is not linear and there will always be setbacks and challenges. I now see that all of these experiences, while very bittersweet, were opportunities to grow and learn new skills that will last a lifetime. 
Now, I am sure after all of that you are wondering how I have changed and what I did to pull myself up from that darkness! First I began to think of how I would treat a friend going through what I was going through and I started to do those things for myself. I would plan things during my week to look forward to such as spending time with a friend, buying myself a treat, and so on. I also placed a larger emphasis on self-care and finding exercise that made me feel good. Next, I tried to live more in the moment and learned ways to stop my mind from stressing too much about the future. Finally, I learned to set attainable goals for myself so I could not only achieve but also gain the feeling of accomplishment. 
 There are two big pieces of advice that I can give to anyone that may be feeling how I felt. 1. It is not your job to compare yourself to others – the only person you need to be concerned with is yourself, and comparing yourself to others seldom makes us feel our best. 2. When we are kind, gentle, and truthful, we are our most authentic selves. Essentially this means that when we stop judging ourselves and give ourselves the patience we lend to others, we are much happier and able to regulate our emotions more effectively. 
It has now been six years since I first began therapy and I am in a much better place in life. It took realizing that once I started focusing less on changing myself, and more on accepting who I am, I grew in ways I could not even imagine. While I no longer regularly see a therapist, I do still have one-on-one counselling with a positive psychology life coach. She remains a very important person in my support system and represents the more positive phase of recovery.
I am so very honoured to be able to share my story with you all. The message I hope to have passed on is: Never let a negative belief get the best of you, because in the end they are just thoughts and only hold the power you give to them.