Worth Living Ambassador Sam Bonnar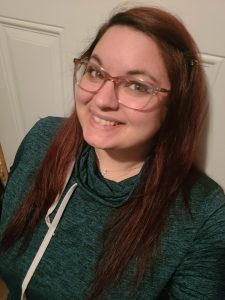 Hello, my name is Sam Bonnar. I was born in Digby Nova Scotia and was raised in Cape Breton after I was adopted at the age of 5.
I am a single mom of a 10-year-old beautiful little girl, and I am always trying to make sure that her mental health is doing well. I am also a proud Alumni from NSCC Marconi Campus with a Social Services Diploma.
I understand firsthand what it is like to deal with bullying growing up in school for 15 years, it was a huge tow on my mental health. Mental health has always been a big part of my life because I have struggled with anxiety, financial issues, depression, suicidal thoughts, and PTSD from all the types of abuse I went through my whole life. I have always felt the need to become an advocate for the ones that can't speak up for themselves and help the ones that struggle to put food on their tables just like I have had for so many years.
After I completed a research project about organizations serving news for my work placement and graduated from the social services program in June 2021, I knew I just had to work with a non-profit organization to help serve the vulnerable population.
I started working with a non-profit organization in July 2021 and I am honoured to be working with such an amazing team. We are very welcoming, nonjudgmental, and always willing to help anyone that needs help.
Since October 2021, I have become a facilitator for a woman's peer support group to empower women. I feel such overwhelming pride knowing that the women in our group have trust in me to open up and expressed to me what is going on in their lives and how their mental health is doing.
From being lost in the darkness to finally being able to guide others to their life. I couldn't be prouder of the person I have become and looking forward to seeing the future me
                               Where I am now from Where I was
Where I am now, starts off from where I came from.
I am from one abusive biological Indigenous family to an abusive Caucasian adopted family to losing every bit of her culture/background at the age of 5.
I am from darkness never knowing when I would find the light.
I am from leaving my "home" at the age of 16 and having a baby at the age of 21 on social assistance barely surviving.
I am from breaking each and every cycle, so my daughter could have a better childhood and future that I was never able to have.
I am from having a crying baby, burps, diapers, Co sleeping but barely sleeping and learning to be a single mom not by choice.
I am from a barking dog, toys to trip over, loud bassy cars, baby steps, and strollers as my daughter is reaching the age of 1.
I am from baby bullet food instead of baby jar food because at least this way I knew what my daughter was about to eat.
I am from nosy and aggressive neighbors, barking dogs, trains with their whistles, daycares, and school while we struggle but still survive.
I am from Garlic fingers because they were my favorite food my whole pregnancy and now surprise, surprise, it's my daughter's favorite as well.
I am from struggling to survive to finally be proud of being a smart, strong, independent working single mom.
I am from anxiety and depression to being a social services graduate.
I am from anxiety holding me back and thinking "I am not good enough", to becoming a facilitator for a woman support group called the Women's Empowerment Squad to empower the women that feel or felt the same way that I have.
I am from "Nope, I will never get behind a wheel", to, "Oh my gosh!, I own a jeep, I have my beginners, and now, I love driving every single day".
I am from now working with a non-profit organization helping the vulnerable just like I was helped when I was lower than I ever thought my life would end up.
I am from Asha Rae, who would I be without you, you complete me by making me your mom.
I am from Mylynne, we are sisters not by blood, but we learned to love each other eventually and now I feel blessed to have my sister.
I am from Vickey because without her unconditional love the last 9 straight years, I wouldn't have a "mom" to help guide, support, and praise me into the person and mom I am today.
I am from Angie because without her support, guidance, and love the last 6 straight years, I have no idea what the type of person or mom I would be today.
I am from "kisses?", "Oh my gosh!, I am so proud of you", and "I love you Infinity and beyond" because cycles are broken, and parenting done the loving way.
We are both from every weekends brunch of bacon, eggs, and French toast. The aroma fills the air in our home and makes the hunger grow stronger.
I am from Asha's first steps in our first home in Leitches Creek.
I am from our first puppy love at our third home in Florence filled with lots of puppy breath, puppy play, and of course the potty training.
I am from teaching Asha how to swim without a lifejacket at the age of 6, all the smiles and giggles we had that day at Dalem Lake.
I am from giving cuddles, kisses, hugs, I love you, and I'm proud of you, because I became a mom. This is what I live for every day, my daughter.
We are from bonds that are not broken just because the systems are.
I am from mine and my daughter's present and future not just by my past.
I am from being proud of where I am now because my past made me a stronger person and a better mom that my daughter deserves.
Sam. Bonnar