Worth Living Ambassador Amber Chin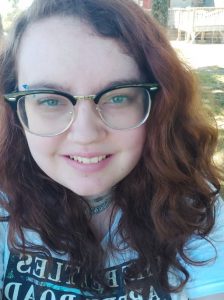 Hello, my name is Amber and I am a Dalhousie Alumni with a Bachelor's Degree in Philosophy and Gender and Women's Studies. Currently, I study Counselling Psychology at Yorkville University with the hope of one day supporting patients living with chronic pain and their mental health. I personally live with Fibromyalgia and have struggled with mental illness since I was young, both anxiety and depression.  
 My Mental Health Journey
When I was sixteen my mom took me to the doctor. I had scratched the knuckles of my fingers raw, deep large scabs carved by my own fingers like I was a chunk of firewood someone was determined to make into art. I just showed them my hands when I was asked why we were there, my mom shaking her head from my side. I was put on my first antidepressant. I stuck with the story that I'd just get so anxious that I wouldn't notice what I'd done and the first time that was true.
Every time after, I'm not so sure.
I have lived with depression and anxiety since I was young, I was known and teased for being the fearful one, the sensitive one. At least until I learned to hide the overwhelming panic and fear that monopolized my thoughts. I got really good at it. I know it motivated my self harming behaviour and that this wasn't the first time I had hurt myself and hoped someone would notice. I was only sixteen and I could only carry so much self-loathing, fear and trauma inside without feeling like I was watching popcorn in the microwave waiting for that first POP. I felt the temperature rising  but I was the only one awake to watch it spinning.
The pills didn't help and the concern was short lived even as the hits kept coming. I was a different person for a long time and my mind unravelled so slowly and so quietly that I had to wonder if anyone noticed. My behaviour became more and more unhinged but I only understand that looking back with kinder eyes. I had many of my breakdowns in isolation and in ways I am grateful to have come back from them as I did. I didn't know how to ask for help, I, hadn't yet learned how and hadn't really felt safe enough to understand that.
I was really good at pretending to be fine. I did so well in school that people forgot to ask about my grades. I had been working part time since I was sixteen often leaving my day at school to work until 10pm, homework until however early in the morning and then do it all again three to five times a week. I was a good kid.
When I moved for University I was privileged enough not only to be at University but to also be able to see a therapist covered by my tuition. I was raised with a deep distrust for doctors and counsellors and making the appointment was one of the bravest things I've ever done for myself. I would see my counsellor for the next four and a half years until I left University.
I remember at the end of my first session my therapist telling me that she thought she could help me but if I didn't think she would be a good fit for me, she would gladly refer me to someone with a different style. This was important to me, that in the midst of my swirling and heightening panic where I no longer felt like myself or like anyone who should be making decisions, she gave me the opportunity and the validity that I could decide for myself what I needed. It was the first of many lessons I would learn.
It was the first step in a core lesson I've learned that I call "showing up for myself". I struggle with an abandonment wound largely stemming from the absence of my birth father which has also cultivated itself over the years through mangled other relationships. In voicing my longing that someone would show up for me and meet the need I was feeling at the time for validation and assurance, my therapist asked me if I could show up for myself. Something so simple but which has been a life saver ever since and a mantra on days when it is just so hard that motivates me that extra step towards taking care of myself.
There are many other lessons I learned in therapy and having that time set aside that was for voicing feelings I had long bottled up, to a person who would be focused on me for the whole time was critical to my healing. It allowed me to release and create space for recognizing the other parts of me that were strong and kind and honest. I hope to one day do the same for someone else as I embark on my new journey towards becoming a therapist myself.
The fears are still sometimes so bad that I can't leave my house because I'm convinced something bad will happen. But I have changed in so many painfully beautiful ways and created space for an idea of myself that I never could've imagined back when I was sixteen. I put in so much work and faith to internalize that I was someone worth taking care of even when I'm mean and push myself too hard. And I am. And so are you.