I am so proud and pleased to announce that Worth Living has joined with WL Ambassador Ashley Quackenbush to launch Worth Living Manitoulin Island. Ashley is also the Worth Living Official DJ (Scratchley Q)  and provides a weekly Top 10 Countdown of Music Videos that is posted on this site each Friday and shared on all WL social media channels. She has made 6 Volumes of Worth Living BPM Therapy Mixes too, you can find them at www.mixcloud.com/djscratchleyq
Worth Living Maniltoulin Island will advocate for Mental Health on Maniltoulin Island, providing education and support to people living with mental illness. The message of WL MI is one of health, hope, and happiness.
Worth Living Ambassador Ashley Quackenbush / Official DJ Scratchley Q
WL Manitoulin Island hits the local newspaper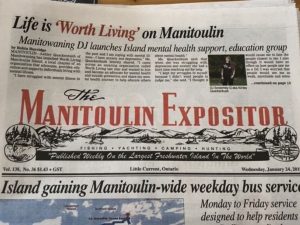 WL MI Lead Ashley Quackenbush was a Featured Speaker at WE Day Manitoulin Island
Mental Health and Addictions Services for Manitoulin Island
(Resource Numbers) 
If you or someone you know is in a
crisis call 911 or go to your nearest hospital/ emergency
room department.
Crisis Services Canada:
Phone: (Toll Free) 1-833-456-4566
Text: 45645
Chat: www.crisisservicescanada.ca.
Kids Help Phone 1-800-668-6868
Pre- Crisis Warm Line (6pm-12am) 1-866-856-9276
Crisis Line (24/7): 1-877-841-1101
Manitoulin Family Resources – Shelter services/ outreach Referral/ Crisis Line (24/7)
(705) 377-5160 or 1-800-465-6788
Health Sciences North (Little Current Site) – Addictions, Mental Health & Crisis Services
(705) 368-0756
Noojmowin Teg Health Services (For Aboriginals on and off First Nation Communities)
705 (368)-2182
Mnaamodzawin Health Services: (Sheguiandah, Whitefish River, Aundeck Omni Kaning,
Sheshegwaning, Zhiibaasing) (705) 368-2182
M'Nendamowin Mental Health Services (M'Chigeeng) (705) 377-5347
Nadmadwin Mental health Clinic (Wikwemikong) (705) 859- 2330
Manitoulin Community Withdrawal Management Services (705) 368-2182
Family Health Clinics:
Little Current (705) 368-2450
Manitowaning (705) 859-2170
Mindemoya (705) 377-5371
Gore Bay (705) 282-2262
Telehealth 1-866-797-0000
Recovery:
Northwood Recovery Clinic Manitoulin (705) 859-3280
Ngwaagan Gamig Recovery Centre (705) 859-2324
Manitoulin – Sudbury District Services Board 1-800-667-3145
Justice Support Services:
UCCM Justice Program (705) 377-5307
UCCM Police Social Navigator Initiative (705) 377-7135
Canadian Mental Health Assoc. Court Outreach Worker (705) 368-0756 ext.237
Aboriginal Court Workers:
Wikwemikong -(705) 859-3122 ext.241
Gore Bay – (705) 285-4485
Manitoulin Northshore Victim Services (Toll Free) 1-866-392-7733
Victim Witness Assistance Program (705) 282-1923
Policing:
UCCM Police Service (705) 377-7135
Wikwemikong Tribal Police (705) 859-3141
Ontario Provincial Police 1-888-310-1122
Emergency (Police, Ambulance, Fire) Call 911