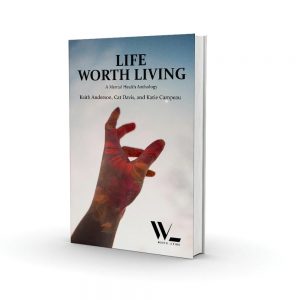 Worth Living News! 
We are super excited to announce that our book Life Worth Living: A Mental Health Anthology is available now.
An incredibly diverse group of  authours share their journeys, each an important voice in the conversation on mental health. 
Price:  $29.99 CAD,  free shipping.  
You can purchase your copy in our Shop
Thanks for supporting the ongoing conversation on mental health. 
Huge thanks to Cat Davis, Katie Campeau and all the authours for their tireless work!  
The Authours
Keith Anderson 
Cat Davis
Katie Campeau
Ryan Gould
Nikki Opara
Haley Tiffany
Katherine McCain
Blaine Wolfe
Precious Emodamorri 
Alexandre Campeau
Natalie Vopicelli
Ashley Shaw