Worth Living Seminars
You Got This –  Steps to a Better Life
Enrich both your personal and professional life.
Each Seminar will be 45 minutes followed by a 15 minute Q & A session. They will be presented online or in person. I will share what worked for me in getting healthy and what did not work. Seminars are based on my personal knowledge and experience as a lawyer who had depression.
An honest approach to addressing your challenges.
You see lots of offers on social media that promise and guarantee that you will succeed in health, wealth, business, and career. I don't make vague promises.
You deserve better, you deserve honesty.
I will promise a true, blunt, and forthright discussion on how I attained good health after years of depression. The steps I took to leave the darkness behind.
But it's more than me, this is about you.
I want to hear from you as the seminars proceed. Together we will change your life for the better. We will talk about the real world in all its glory.
We are in this together. We all have work to do.
You will realize and understand that your life is good, it's even wonderful at times.
The First Session is free. All I ask is that you donate to your local food bank.
Session One: The Worth Living Story – My journey and what's ahead for the seminar series
You will see how I came out of the darkness. I will share the actions I took in order to regain some measure of good health.
How to get on the path to better mental health so that your life – personal and professional – becomes hopeful, healthy, and happy. We all need to heal.
Session Two: Learning to Self-Advocate – Looking after yourself in this at times harsh world.
I will discuss the positive steps I used to get to that good place where my thoughts, feelings, wants, and needs became worthy enough in my mind for me to stand up and assert them as important. You will learn how to step up for yourself.
Session Three: The Shift  – Self-Confidence, Self-Esteem, Self-Worth, Self-Respect.
We usually read on social media that all recovery and self-acceptance comes from within ourselves. In my case, that wasn't completely true.
Learn what it takes to attain another level of good mental health. The session will allow you to garner the steps I took to regain my healthier self. I made a mental shift. You will recognize what is within yourself that needs more attention and how to get a higher level of good health.We are on the path together but we may take a different journey. We all strive to be healthier. We go forward on  our own individual terms but we are not alone.
Session Four: You Got This! – Learn how to take control and have your mind focus on you!
You are the one who counts. Being confident brings a wealth of benefits to your life. I will discuss how I view mental illness as impacting both one's mind and heart.
Session Five: This final session is set by you.
It's a private one-on-one discussion with me scheduled to accommodate your schedule. This allows for concerns specific to you to be addressed. Full and complete privacy and confidentiality are assured.
For one month following Session 4, you will receive at no additional charge –  10% off all Wl Apparel; unlimited email access to me to allow you to receive support and understanding as you strive ahead;  become a WL Ambassador; the opportunity to write for the WL Blog; the opportunity to join the private WL facebook group exclusive to WL Ambassadors.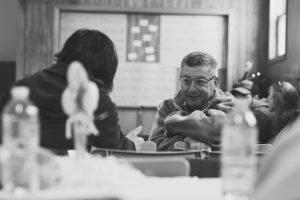 you get a chance to write for the Worth Living Blog; a reduced price by 10% on all Worth Living Apparel;  the opportunity to become a Worth Living Ambassador; the opportunity to join the private Worth Living facebook group exclusive to Worth Living Ambassadors.