Worth Living Ambassador Sheila Houlahan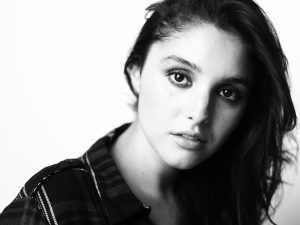 Indian-American Actor/Singer Sheila Houlahan has been seen on stage and screen around the world. Her most notable credits include performing the music of A. R. Rahman with the Seattle Symphony as the headliner Mezzo soloist for the Celebrate Asia! 2017 concert, performing with A.R. Rahman at the 2016 CES Intel Live Show in Las Vegas, winning an award with the Washington District Metropolitan Opera Competition in 2014, singing as a featured soprano soloist for the 2009 Salzburg Festival, playing the role of Optima Prime in the feature film Wallflower, produced by Paradigm Studios and set to release this year, and playing the role of Ghania, the villain's henchwoman, in the new superhero TV show The Exceptionals.
She received a Bachelor's of Music in Operatic Performance from the Manhattan School of Music. She has worked with exceptional artists such as: A.R. Rahman, Robin Eubanks, Christopher Plummer, Martina Arroyo, Donna D. Vaughn, Alan Gilbert, Ron Browning, Bad Animals Recording Studios, and has also done commercials for Microsoft, T-Mobile, AAA and Doritos. Sheila is currently working on her first solo album under the pseudonym iamshiiila and a corresponding music video series.
When she's not acting or singing, Sheila enjoys amateur foraging, kicking butt in Krav Maga and screwing up basic recipes in the kitchen.
A chat between Keith and  Shelia
How would describe your music?
This is a great question! The short answer would be "pop", the long answer would be that it is a mix of the myriad of influences I've had on my music career. I got my start as a classical singer, but began branching out to other styles for fun before falling in love with contemporary music. I would say I'm most influenced by Imogen Heap, Vienna Teng, Tori Amos, SIA, and Florence and the Machine. I've always loved that contrast between ethereal/folk elements with electronic instrumentals and a powerful female vocal. I'm Indian-American and have recently begun re-connecting with my Indian roots through collaborations with Bollywood legend A. R. Rahman, and that has definitely influenced my writing style as well. I'm always searching for that "next sound" and try to incorporate that into my work.
When did you start singing and writing songs?
I began singing at the age of 7 when I joined a professional children's choir called the Seattle Girls' Choir where I learned the bulk of my musical foundation. I sang with them through the age of 18, and it was through SGC that I met my first voice teacher Lois White at the age of 12. She encouraged me to pursue singing professionally, and it was through her that I learned the skills necessary to pursue music at the Manhattan School of Music. After graduating college, I began working intensely with my two current coaches, Erich Parce and Ron Browning, on a sturdy vocal technique that would easily fit any genre. Ron Browning turned me on to contemporary music and pushed me to start writing my own music, and through him I began exploring song writing a year ago. I co-wrote Keep On Marching On with master producer Richard Harris and recently began collaborating on an EP with grammy award winning producer Avery "Avenue Beats".
I like to think of myself as a life-long learner and therefore firmly believe that I've only just started to learn how to sing and write music. One of the greatest joys in life is waking up in the morning and realizing you "aren't done yet"; knowing that there is still so much in life to learn and experience kept me going through the darkest times in my life, and I trust that said information will keep me hoping for a better tomorrow.
What other artists have inspired you?
The list is endless, so I'll stick to two artists who have particularly inspired me. I had no interest in pursuing a career as a solo artist until I saw SIA in concert last September on her Nostalgic for the Present tour. I've always admired her as an artist, but it was through her tour that I learned how much of her music was inspired through her own struggles with mental health and addiction. That resonated with me deeply as I'm now two years out from recovery myself! I began devouring every song she had ever written, and through that process discovered I wanted to share my personal struggles with the world as well. It takes a lot of courage to tell your story, and her strength through vulnerability floored me. Artists are storytellers first and foremost and I have always been moved by a well-told story. Seeing that people needed to hear these stories made me realize that I wanted nothing more than to help people heal through my own experiences and music. That is my ultimate dream.
I also deeply admire Bollywood legend A. R. Rahman and feel grateful for his mentorship and friendship in my life. I highly recommend you listen to his interviews and learn his story sometime; there is a man who has fought against all the odds and succeeded because he never stopped believing in himself, his art and his mission. He is the kindest, humblest, purest man, and he taught me that success comes from maintaining an attitude of gratitude.
Your song – Keep on Marching On –  what thoughts and feelings came together to write it?  What is the source, the reason behind it, is it a personal anthem?
I wrote Keep On Marching On right after the women's marches in late January. After the 2016 election, I felt disillusioned with America and truly felt like there wasn't a place in the world for someone like me. I didn't feel connected to people again until after I saw how many people around the world marched for unity, and it made me realize that hiding from the world wasn't going to help anybody. I wanted to write something that captured the hope I felt at seeing so many people come together for justice, and to validate folks whose daily lives are "marches" due to struggles with health, mental health, relationships, finances, friendships, family, religion, sexual orientation, gender, race, age, ability, access, and so much more. It can feel like a marathon some days just to get out of bed in the morning, and society doesn't often remind us that we aren't alone in our struggles. I wanted my song to be an anthem for the people; we must remember to keep on fighting the big fights and little fights alike, and we must take pride in every step we take towards a better tomorrow.
Tell us more about your journey, if you are comfortable doing so?
Absolutely! I have struggled with my own health and mental health for my entire life, and have only been declared functionally "healthy" in the last year or so. I battled a severe eating disorder for 12 years and am proud to say I've been fully recovered for 2 years now! It certainly hasn't always been an easy journey, and every little slip out of recovery brings on a new wave of anxiety and depression that can be hard to quell. I certainly wouldn't be alive today if it weren't for my music, my writing, my friends, my family, my mentors and my students (you know who you are!); they give me reason to get out of bed in the morning when even the simplest of tasks feel impossible. I've been sick for years and my family could never figure out why; I've had severe organ failure and even went through a heart attack before years of testing revealed that this entire time I've been eating food my body is severely allergic to: eggs and almonds! Once the doctors realized I was living in a state of constant anaphylactic shock, everything began to make sense. I didn't realize it wasn't normal to feel pain and extreme fatigue all the time, and as my body healed my mind began to relax. I still struggle with my mental health, but it is a whole lot easier to feel safe and stable when your body isn't attacking itself. I now actively advocate for better mental health care, which is how I came across Worth Living. We need to take mental health care more seriously as a people. We need to stop casting it aside as something "unimportant", and we need to stop gendering mental health and health concerns in general. I will never understand how people can brush off suicide so easily; I am a a suicide attempt survivor and believe that suicidal thoughts need to be treated as seriously as a heart attack. The day people take mental health seriously is the day I can relax as a mental health advocate; I feel fortunate that I can use my art as a platform to raise awareness in general and to tell my own story of ED recovery.
Thank you so much!! I'd love to do a follow-up interview in a week or so to talk about my new single Achieve, which features reggae legend Junior Reid and dropped last week! I am so excited to collaborate with you!! 🙂
Watch the Keep On Marching On video at
https://www.sheilahoulahan.com/music/
It is also on all major platforms including iTunes, Spotify, Apple Music, Amazon Music and more!
Please follow Sheila on Instagram and Twitter, which can be found at @iamshiiila 🙂