Worth Living Ambassador Cat Davis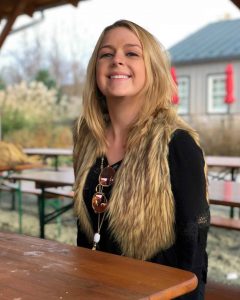 Hello. My name is Cat, and I am a 21 year-old diagnosed with bipolar disorder. Reading and writing became my solace during the darkest times in my life: the times when my journal seemed to be my only friend, the times when my jaw forgot how to make sounds, and my mind failed to form relationships with others. I decided to post my journals on a personal blog, both as a way of releasing my emotions and as a way to continue the mental illness conversation. Through writing out my experiences, I hope to provide hope—even the teeniest tiniest amount, even to only one person—because one cannot survive without hope. Hope is the genesis of recovery. Hope inspires hope. Thank you.
Bipolar v Anxiety
Why is it easy for me to talk about bipolar, but hard to talk about anxiety?
Since my diagnosis with bipolar disorder in January, 2017, I've become
more and more accustomed to talking to people about my mental illness.
People tend to take the word "bipolar" seriously. It's uncommon,
unusual, misunderstood, or not understood at all. Besides statements
like "the weather is bipolar today" or "my teacher was acting so
bipolar," I never thought much about the disorder until it plagued me.
Bipolar disorder has quickly become easy for me to talk about. People
are fascinated by bipolar, and I am more than happy to educate and
inform them. I enjoy helping people understand and I really think it
is one of the reasons why I am here. Reading textbook definitions of
mental illnesses is rendered useless compared to speaking with those
with firsthand experience them. Mania, euphoria, grandiosity,
recklessness, hallucinations, delusions: these are just words. Funny
anecdotes about spontaneously chopping all of my hair off or being
hospitalized for a rash across my entire body (that was much later
attributed to a visceral reaction to my bipolar mania) help people
relax and feel more comfortable and confident asking me more. Or quite
serious stories about the time I really, truly thought I had a
miscarriage (there was no child) or when I really, truly imagined an
old ex-boyfriend entering my gym and watching me (there was no boy):
those incidents have meaning. Those stories get down to the grit and
raw emotion of a truly debilitating mental disorder.
I rarely talk about my secondary diagnosis of generalized anxiety
disorder, or GAD. GAD doesn't come with funny stories about absurd
shopping sprees or blackout nights at the bar. It doesn't come with
highly unusual events like hallucinations or delusions, which intrigue
and fascinate people. You can't see it in my constantly enlarged
pupils or my bright red skin rashes. Anxiety is a silent disorder,
unnoticed by most, except for the person it inhabits, controls, and
attempts to destroy.
Anxiety embarrasses me. I don't want to bite my nails or twist my hair
the moment I feel uncomfortable in a situation. I don't want my heart
to race when I see or hear something that triggers the memories I try
so hard to forget. I don't want to become paralyzed by the thought of
an upcoming social event, or an important exam, or a rapidly
approaching deadline. Anxiety tells me not to bother my friends with
my problems, that no one will understand, that no one will care.
Of course they care.
My rational mind knows they care.
My anxious mind tells my rational mind to shut up, no they don't,
leave them alone, your feelings are stupid, you just need to get over
it. Get. Over. It.
People don't expect me to get over bipolar. They hear that word and
expect the worst. On the other hand, the word "anxiety" is thrown
around, considered a more common term and used as a synonym for
stress.*
I am not stressed.
My anxiety is a mental illness, too.
It is just as important as my bipolar disorder, just as horrifying,
just as obscure and unimaginable.
But for me, it is so, so, so, so much harder to talk about.
I don't want to feel weak. I don't want to be seen as weak. I want to
be just as strong as my support group thinks I am. All the time.
Unwavering. Forever.
I know that keeping things bottled up, that allowing my mental
illnesses to be silent killers, only makes things worse. I know that.
I do. But knowing doesn't make it any easier. Speaking out, ignoring
the pangs in my gut telling me not to, not hiding behind the stories
I find easiest to tell, will make it easier. Listening to other
stories will make it easier, too.
*Stress and anxiety fill up college campuses and are often ignored or
at least not properly dealt with. Whereas stress can be a healthy
reaction to challenging, uncomfortable situations, anxiety can
psychologically and viscerally affect your ability to perform everyday
tasks. If you are at all concerned with whether or not you experience
extreme stress or have an anxiety or panic disorder, please reach out
to a licensed professional. He or she can give you study tricks and
relaxation tips to better manage your stress, or help provide or find
therapy and psychiatry treatment for an anxiety, panic, or other
mental disorder. I only wish I had reached out sooner.