Worth Living Run Ambassador Sarah Eisan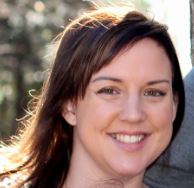 Graduating from Saint Mary's University with a Bachelor of Commerce, Sarah worked as an IT professional until she was diagnosed with Bipolar Disorder. Over the last year since her diagnosis, she has been on a leave of absence, learning how to navigate the Mental Health system and becoming an advocate for others struggling with Mental Health. Sarah has found exercise and running to be an important part of managing her Bipolar Disorder and hopes that sharing her journey can help others find the courage to get help.
Through the Darkness
Mental health is something I've always been aware of, even from a young age. Several members of my family have struggled with various mental illnesses so it wasn't taboo in my family, it was just part of day to day life.
You would think this would have prepared me for the mental health challenges that I would face during adolescence into adulthood but instead I bottled everything up, put on a brave face, determined I would be the success story, I would be the person in my family who wouldn't have mental health issues.
Through my teen years and into early adulthood, I remained steadfast that I wasn't experiencing mental health symptoms despite feedback from those close to me that maybe I was. It wasn't until after the birth of my daughter,  that I admitted I wasn't as strong as I let on. It had been a difficult pregnancy that resulted in my daughter suffering a stroke during childbirth so at least now I felt justified in my struggles; surely going through this situation would be enough to make anyone struggle so I reached out for help, taking the first step of what I didn't realize then would be an incredibly long and strenuous journey.
I was initially diagnosed with depression and anxiety, I accepted this and took the medication expecting that to fix me, I wasn't interested in talking to a stranger about my struggles, I wasn't ready to accept that there may be more pieces to this puzzle I was dealing with. Over the years I continued on medication but also continued to struggle. It wasn't until several years later when a co-worker introduced me to running that I found an outlet for the depression and anxiety I was still continuing to experience.
Now before you picture a typical runner, lean and athletic, let me assure you that was not me. I was overweight, short and slow, in fact my best time ever for a 5k race was 42 minutes, but the benefits running gave to me were immense; it was during runs that my mind would briefly clear, the racing thoughts and negative self- talk would disappear for a short time and it was magical, for a brief time, I didn't feel depressed or anxious.
For the first time in a long time, life was becoming manageable and I thought I was finally starting to get better, then life happened… a freak painting accident left me with a severe concussion and now I couldn't run. I tried and failed miserably setting back my concussion recovery which caused the depression to become worse than ever. I was off work for over a year and even when I was well enough to work, I still couldn't run without the post-concussion symptoms taking over, sidelining me and I am ashamed to say, I just gave up. The years that followed were the darkest that I could ever have imagined and it all came to a breaking point the day my husband said to me, I think we should take you to the hospital.
I thought this day would be my lowest point, my rock bottom but it wasn't. There would be several more "rock bottoms" I would experience but on this day, at the hospital, terrified, talking about my darkest thoughts with strangers. I received a diagnosis that would change everything, Bipolar Disorder. This day, this diagnosis, set my life on a new path consisting of new medications, individual and group therapies, and despite my best efforts, more hospital visits.
By this time I had gained even more weight, feeling less athletic than ever, but over time, seeing Facebook posts from a local gym inspired me to give it a try. Maybe I could get that part of me back and maybe it would help my mental health. I started at The Barn, a small local gym with an amazing supportive community feel and slowly I began to regain my confidence and my strength. Now with my newfound confidence and strength I'm beginning to run again, slowly and with lots of walk breaks mind you, but I'm doing it and I can feel the mental health benefits already. I know I still have a long road ahead of me and there will be ups and downs but I also know that I can help myself by going to the gym and running, I know now I can do this and that my life is worth living.