Worth Living Ambassador Tylia Flores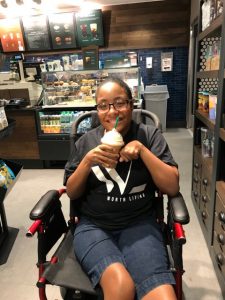 Worth Living Ambassador Tylia Flores
How to Cope with Depression and Cerebral Palsy during Quarantine
I want you to imagine this: 
You're 24-year-old, You're in college, you enjoy writing and reading like any other person would, so you're quite typical on the inside but on the outside, you have to use wheels as your legs in order for you to see the world. 
That's my everyday life as a woman with cerebral palsy and it has been for the past 24 years. I also struggled with depression on and off throughout my teenage years and adult years but with the outbreak happening it makes it harder for me to cope with cerebral palsy and depression together. 
Luckily though, I found three  ways that have helped me cope with depression and my condition
   

Avoid as much social media as you can

– I know this could be hard because social media has become a part of our everyday lives and it has become the way we communicate with our loved ones during this time but if you can avoid it since everyone's has too many opinions and it could be stressful.

   

Find things that you could do indoors

– Believe it or not, there are plenty of things you can do indoors for example, I've been reading, writing and drawing to help pass the time.

   

Take a Step Back

– if you feel overwhelmed and stressed out, or just tired then take a step back and take a mental break. There's nothing wrong with that. My favorite thing to do is watch Urban Cowboy and relax my mind until I'm ok. 
 Ultimately having a disability during this pandemic could be tough but I hope with these tips, it will help you learn how to cope with the situation more.