Worth Living Founder – Keith Anderson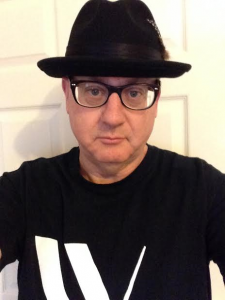 Music has played a few roles in my depression and recovery.  I have been at amazing concerts but in the midst of the darkness.  I have been alone in a crowd of 80,000 people but not felt lonely. Music brings forth a community.
As I started to think about what to write this week, I kept remembering the BringChange2Mind Music Nights I hosted online for a couple of years. I posted music clips on facebook hoping the music would help people who may have been alone and struggling with mental health challenges. Those Saturday nights fostered friendships, with lots of memories and stories shared. Music was the catalyst.
I thought this week that I would share some of My Mental Health Playlist. It`s not a Best of List or a Top 10 List.  It is simply a list of songs that had an impact and continue to be part of my memories.  Most clips are from live performances which I prefer. Videos produced and songs produced in studio may be more pristine with perfect song quality. To hear and see an artist in concert is real. It may contain mistakes, but it's authentic.
Whenever I consider songs that were part of my journey, I always start with Joe Cocker's version of  With A Little Help from My Friends. It was the impetus for BC2M Music Night. Though a Beatles song originally, it became a Joe Cocker classic after he performed it at Woodstock.  His debut album in 1969 took it as its title. The lyrics are quite apt for those of us who know the darkness and the longing for help from our friends.
Another song somewhat akin is Carole King's You've Got A friend in Me. We associate this song with James Taylor.  He would get the chance to make it his own. This clip begins with the story behind the song, such kindness exhibited between artists. It's as heartwarming as the song.
Fleetwood Mac's Don't  Stop Thinking About Tomorrow is a truly feel good song. It was released on the album Rumours in 1977. I was 16 and played the 8 Track constantly. Who remembers 8 Tracks?  It is still a song that provides good memories.
I was late discovering Nina Simone, but she captures the difficulties of life so well in her songs. The emotions, angst, and joys of life simmer within her music.  Try to catch the documentary on her life, I saw it on Netflix last year.
This song, Ain't Got No, I Got Life, begins with a tone of sadness.  However, if you listen carefully, you can sense that there is some goodness waiting to be heard.  Then you discover she is proud of herself. Wow! It gives me such hope!
This next song is deeply personal with warm memories but still with a bit of pain.
My first date with Dionne was a weekend trip to Las Vegas. We got tickets to see Cher. I wasn't a huge fan, but we  thought her show would be entertaining and it certainly was that. Believe was her big hit at the time. My listing this song is to mention a memory of a relationship that started wonderfully but was torn apart by our mutually having depression. Tough to keep it going in the midst of such mental turmoil.
In Bruce Springsteen's recently published memoirs, Born to Run, he discloses his time with depression.  Such a musical icon, but here he is with challenges to which I relate. Catching him in concert a few years ago was special. The most intense start of any concert I have seen. He didn't stop nor catch a breath for the first hour. Intense, gripping, I was all in!
I have a wonderful story about a  Van Morrison concert. It's too long and I can't write well enough to properly catch the context and humour of it here.  Sorry! It was truly a Worth Living Memory.
In the meantime, let's get on the same Wavelength.
My first major concert was seeing U2 on the Joshua Tree Tour at Wembley Stadium in 1987. A breathtaking concert.  Though Bono has undertaken some life changing initiatives for millions of people, it's the music that we will focus on here.  U2 has had some of the most inspiring music in the last 30 years.  A Beautiful Day makes me feel hopeful that every day can be special.
I had heard of Moby, but never knew his music. I have no idea how I found this song but I like this clip. It's  a fun clip but with a positive message.
It took years in recovery before I listened to jazz. Not yet sure why.
I had the good fortune to see Miles Davis perform twice while I lived in London.  Two friends took me to the first concert. They were completely bored. I was deep into enjoyment. When he returned  six months later, I knew to buy one ticket!  The concert night, I went to dinner then walked to Royal Festival Hall. I was in the fourth row. Just Miles and me!  One of the best evenings of my life.
Miles' Kind of Blue album is without doubt the most influential and popular jazz album of all time.  This is a clip of So What from Kind of Blue.  Sit back and let the music flow through your mind and heart.
Louis Armstrong – What a Wonderful World –  no words are needed – a song to let you dream.
My Mental Health Playlist.
What music helps you through challenging times? What music do you play when you feel wonderful?
Note : A version of this post appeared on The Good Men Project.